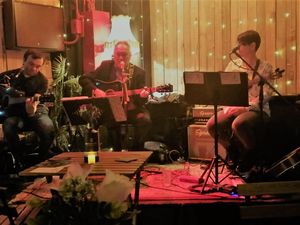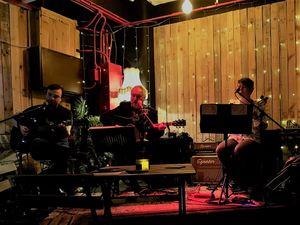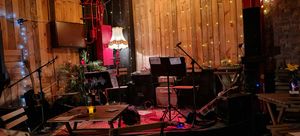 Big thank you to The Prohibition Studio Music Rooms for staging our show and to the audience who came along to support us last night. 
We had a great time and was such a relaxing evening that we got carried away at times. 
Big shout to the wonderful Chris Jones for playing most of my set with me - in some cases without a rehearsal - 1 rehearsal for most songs - He's flippin amazin' 
and a big thank you from me to Alison Benson who agreed to play, do a format that we both had not done before and playing 4 of our co-written songs for the very first time in public. 
Top Photo - Dave Provost -
Middle - Ray Provost
Thank you
Here is the set we played for those taking notes: 
Set 1 
• JJ - A Stranger to your Heart 
• AB - Lily 
• JJ – The End of Summer 
• AB - Sing my soul 
• AB/JJ - Step into the Day (Debut Performance) 
• JJ – Put the World to Rights 
• JJ – It's not That I'm afraid of your Husband 
• AB - Black pearls 
• AB - Another think 
• AB/JJ – My Foolish Girl (Debut Performance) 
• JJ – He''ll Have to Go (Cover) 
• AB - Here, there, and everywhere (Cover) 
Set 2 
• AB – Time doesn't stop 
• JJ – Jackson's Farm 
• AB - At the Threshold 
• JJ – Just Another Day 
• AB/JJ – Once Upon a Time on a Saturday Night (Debut Performance) 
• AB - Crystal Ball 
• AB - The End of the earth 
• JJ – Daniel White 
• JJ – 43 and Counting 
• AB/JJ – Strangers on a Train (Debut Performance) 
• AB - Seek Peace 
• JJ – The Last Train from Baltimore 
• AB - 1 Song of the Liver Bird 
• JJ – Good Company 
• AB/JJ - Little Ole Wine Drinker Me (Cover) (Debut Performance)