Absolutely chuffed to be included in this fine selection of tracks from "Fretsore Records" - Its an honour to be part of this wonderful family of artists and record label 
Check it out 
It's a must x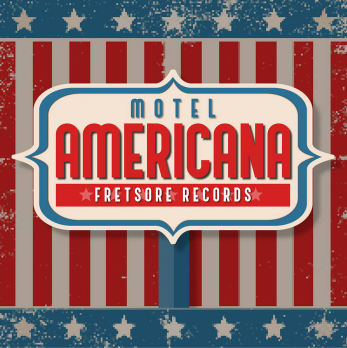 WELCOME, WELCOME TO MOTEL AMERICANA... 
Hi, and welcome to our fine place to visit on your musical journey. 
We have inviting tunes to warm your heart and to help make peace with the world! Fill up your tank and sample our fare! 
Grab a bite. Our menu is to die for so you'll be 'Piggin' Out' and hopefully here 'All Day'. You will be 'Powerless' to say no! 
Whether it's the middle of Winter or the 'The End Of The Summer' you'll fit right in 'cos we 'Carry Your Heart'! 
We 'Rise Above The Ashes' and keep a clean abode. As they say it's just 'Garbage In Garbage Out'. 
Our only advice is, if you go elsewhere, just 'Don't Drink The Water' as it may be no better than a 'Tall Glass of Muddy Water'! 
We hope you enjoy! 
SONGS FROM... 
Bob Collum and the Welfare Mothers - 'This Heart Will Self Destruct' LP 
bobcollumandthewelfaremothers.bandcamp.com 
Brand New Zeros - 'Back To Zero' LP 
brandnewzeros.bandcamp.com/album/back-to-zero 
Brinsley Schwarz - 'Tangled' LP 
brinsleyschwarz.bandcamp.com/album/tangled 
Don't Drink The Water - 'Saturday Night Paint' EP 
dontdrinkthewater.bandcamp.com/album/saturday-night-paint 
Lily Garland - 'Rise Above The Ashes' EP 
lilygarland.bandcamp.com 
Jack Henderson - 'Where's the Revolution' LP 
jackhenderson1.bandcamp.com/album/wheres-the-revolution 
John Jenkins - 'If You Can't Forgive You Can't Love' LP 
johnjenkinsmusic.bandcamp.com/album/if-you-cant-forgive-you-cant-love 
My Darling Clementine - 'Country Darkness' LP 
mydarlingclementine.bandcamp.com/album/country-darkness 
Philip Rambow - 'Canadiana' LP 
philiprambow.bandcamp.com/album/canadiana 
credits 
released January 27, 2022 
© 2022 Fretsore Records. 
Graphics: Red Adore Media 
license 
all rights reserved 
tags 
Tags 
americana acoustic electric guitar slide guitar London