Americana UK - John Jenkins and the James Street Band "Looking for That American Dream" (Independent 2019) 9/10 
John Jenkins and the James Street Band "Looking for That American Dream" (Independent 2019) 9/10 
Here is a notable and established band from Liverpool. The reliability of John Jenkins' work is demonstrated in the title track 'Looking for That American Dream' which begins the record and captures the listener's attention immediately with its references to 'The American Song Book, John Denver and Dolly.' You are in safe hands. Look out for the outstanding promotional video by Phil Calland. The rest of the album follows in its wake.
The story here, and behind every track, movingly alludes to life that carries on beneath, and in spite of, the dream: the girl that "just didn't care," the lack of privacy in life where "the walls are paper thin." The accompanying lyrics and notes for every track are an indication of the care John takes with his words and his performance. 'Just Another Day,' one of the most moving tracks in the collection, floors a listener even before the true story behind (the mass shooting at Parklands, Florida in February 2018) is explained. Again, it is the ordinary detail, the blueness of the sky, passing "Casey's store along the way," "your photograph on the mantelpiece… how "You kissed my cheek to say goodbye;" all these normally ordinary events conspire to devastate the listener entirely.
The third track, 'I Was the One,' in John's notes, is, for him the rarity of a happy love song, composed on a journey from Meols, on the Wirral, to Glasgow, to see Kacey Musgrave at the C to C Festival in 2018. A song that works by the repetition of the title, 'Can You Hear Me' with its confident, confiding guitar work, and mouth organ, rejoices in remembering a moment, important for his dad, when John was eighteen months old and the family moved to the relative greenness of West Derby, Liverpool. Here is that booster song of encouragement! Playing with Fire' was written by John for his band, The Persuaders in the 1980's, now performed as the story of a lonely man by the James Street Band. Try to watch the YouTube video made by Brian Roberts and you will see John and the band acting out the confessional very professionally!
'What Did I Have Before?'  was written and is sung by another band member, David Nixon. With up-tempo ukulele background, the same positive vibe continues with a song that makes one "stop and think!" 'Roundabout'features a friend of John's on violin, Amy Chambers, with a rousing female chorus, giving a glorious acceptance of all that life throws at you. All in all, a glorious hillbilly sound, just adding to the variety of the collection.
Watch out for the repeated chorus that catches you on the next track: "Can't get you out of my mind…." Here is a singer/ songwriter, easy with his style and lyricism, an accomplished musician. And this impression is strengthened still further in 'The Forgotten Man,' a gentle, thoughtful song, very moving with a couplet question, at the end that epitomises all that the record is: "And if all the world is one big stage/ How come I'm in the audience waiting to be engaged?"
'Ghost in the Bar', is an interesting track written by Denis and Sue Parkinson, with thoughts about this bar-room character, known to everyone, with two words that hover overall: "charity and crimes." John's assimilation, knowledge, and love of music is inspired on one track, by Sturgill Simpson, and epitomised in the tribute to Sam Cooke. "What a wonderful world it is," he sings, "Since I've met you." Take note of the guitar bridge – Perfect!
'Can We Still Be Friends?' The album ends on a high, finishing with a very catchy sing-along: "Much too much, much to ask for." Camillla Sky and Vanessa Murray lead the chorus and capture the perfect ending of a fully orchestrated, violin included, track.
Everything about the album has a confident and appealing allure to it: Bob Dylan's picture of Half Way House Café on the cover of the record, and the detailed and interesting notes within, all of this is adding to its appeal. There are 13 tracks all told. There is much to listen to and get involved with with this thought-provoking collection of songs.
Here is a Liverpool band that demands national attention
9/10
John Jenkins and the James Street Band - Looking For That America Dream - Review music-news 4 Stars
Lonesome Highways Review - Looking For That American Dream - Album - April 2020
John Jenkins and the James Street Band Looking For That American Dream Self Release
John Jenkins is a singer-songwriter who resides in Liverpool and has a number of albums to his name. The James Street Band include Denis Parkinson (guitars and vocals), David Nixon (harmonica, percussion and vocals), Dave Orford (drums and vocals), Steve Atkinson (bass), Lee Warren Shone (keyboards), with Jenkins contributing guitar, keyboards and vocals. As a veteran of many years in the business and different bands, Jenkins knows his way around a studio and this release is testament to his writing skills and his co-production, with Jon Lawton, at the helm.
This release dates back to June 2019 but is only reaching me now – better late than never. The 13 songs are very engaging and the ensemble play with great colour and range, abetted by an additional eight musicians who visited the studio to augment the overall sound (four backing vocalists, plus added instruments like banjo, keyboards). 
Roundabout is a great song and instantly recognisable as a wry look at time-pressured couples, holding down two jobs and trying to get by. Ghost in the Bar rocks out in style and the Sam Cooke tribute is just that; a love letter to a golden voice of the past. Can You Hear Me? Is written in memory of his Dad and The Forgotten Man is something that I don't believe could ever be said of this talented musician who creates easy on the ear, melodic music that never fails to please. 
Review by Paul McGee
John Jenkins and The James Street Band - Looking For That American Dream - 10/10 Radio Radio Review
John Jenkins and The James Street Band - Looking For That American Dream - Stereo Stickman Review May 2019
John Jenkins and The James Street Band
Looking For That American Dream  
Radio Radio Review 10/10
I  can highly recommend the latest album from John Jenkins and The James Street band.
As featured on Radio Radio podcasts and the live shows, this album has 13 great songs from The opening title track to the epic closer Can we still be friends.
In between the band take you on a journey including tales of adultery (playing with fire) finding your soulmate (what did I have before) and growing up in a time when life was uncomplicated (Sam Cooke) a song that wouldn't be out of place on the soundtrack of stand by me. However, the stand out songs for me personally are Can you hear me and just another day where John's songwriting is at it's best. 

The James Street band and extra musicians are at the top of their game here, all steered in the right direction by Jon Lawton. 
Americana? Easy listening? Folk rock? Maybe a little of all of the above thrown into the mix. Overall a great album that you need in your collection. 
10/10 #listen ? #buy
https://stereostickman.com/reviews/john-jenkins-and-the-james-street-band-looking-for-that-american-dream/
John Jenkins and The James Street Band have put together a deeply thoughtful collection of stories and soundscapes for this latest album. Looking For That American Dream is introduced perfectly by the warm yet mildly melancholy tones of its folk-rock-driven title track – a classic, organic instrumental set-up, complete with harmonica and a few distinct, recognisable riffs, accompanies the singer's notably smooth and accessible leading voice in a natural and quickly likable way.
From here on in, the project continues to lay out various scenes and story-lines that consistently underline a central concept but also showcase an artist and band with a fine ear for melody and effective musical expression.
Just Another Day follows the opener and leads with a far more mellow, acoustic aura. The story-telling begins again, details and emotions intertwine – personal reflections meet with a more widely relatable vibe that's immediately inviting. Jenkins' leading voice works gorgeously in this intimate and near-whispered setting. A stunning hook resolves in a subtle but powerful way, and the song progresses to build wonderfully. This is the work of a natural and experienced songwriter, with a considerate approach to the art-form, and this is highlighted throughout the album.
I Was The One injects a welcomed hit of energy into the playlist, reminding you of the live aspect and that a Friday night with the band would likely go down a treat. Can You Hear Me? afterwards has a familiar and classic sound to it, with another beautiful hook and some subtle but satisfying guitar work. Playing With Fire then digs deeper into the mind and emotions of the artist as a rather heart-breaking story pours through.
What I Did Before lifts the mood with a ukulele vibe and a simple shuffle of a beat. Jenkins' voice sounds different in this joyful and quick setting, the song reflects again but does so with a sense of musical optimism. Jenkins' writing style takes you through the many experiences of life – the successes, the regrets, the little things that light up an average day. When combined with such a genuine and real-time folk-rock sound this lets the songs connect in an honest way.
Roundabout presents a subtle knees-up groove and showcases the Northern intricacies of Jenkins' voice in a pleasant manner. This song is an easy highlight, a gorgeous set-up – complete with additional vocals and country-style strings – walking in unison with a thoughtful, poetic song, and great performances from all involved. Get Her Out Of My Mind in contrast afterwards creates something of a shoulder-swaying mood.
During the latter half of the album, The Forgotten Man stands out for its Elton-style piano-led intro and the complex nature of its melodic development. Struggle and self-reflection build up towards optimism and a belief in better, and this is represented well throughout everything from the lyrics to the delivery to the instrumentation.
Ghost In The Bar is another highlight and perhaps the most memorable song on the project – easily recognizable, with a brilliantly simple yet striking hook. Sam Cooke afterwards lightens the tone and lifts the room with an acoustic bounce and a widely accessible love-song that subtly tips its hat to a musical legend.
At the penultimate moment, Good Company sets in with a vintage Americana style and another story that's a joy to connect with – both vague and specific details work as one to create something that feels like it's purely for you. Togetherness and a love for the good times shine brightly – a gentle but definite anthem for the end of the night.
Things come to a bright and multi-layered finish with the retro harmonies and cheer of Can We Still Be Friends. The concept thinks a little more deeply on things, the topic relatable again, but the overall vibe is a simple joy to have play. Another fine song and a strong way to close down a consistently impressive collection of tracks. A blessing of an album, and an artist and band well worth looking out for if you're fortunate enough to catch them on the Liverpool live scene.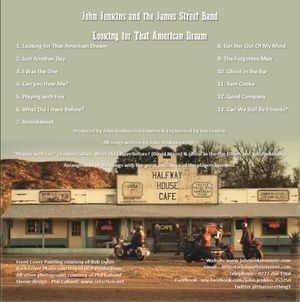 John Jenkins and The James Street Band - Looking For That American Dream - 9/10 - Liverpool Sound and Vision ALBUM REVIEW